---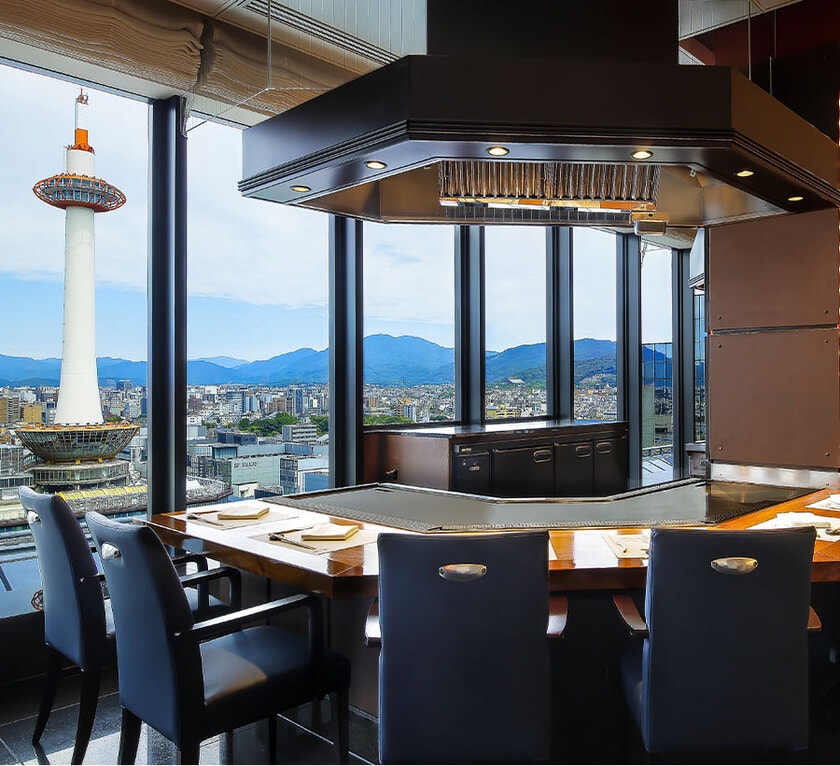 Teppanyaki Gozanbo
Hotel Granvia Kyoto
Shiokoji-sagaru,Karasuma-dori,Shimogyo-ku,Kyoto-shi,Kyoto 600-8216
JR Kyoto Station Central Exit
Hotel Granvia Kyoto is connected directly to Kyoto Station,the gateway to Kyoto. Located on the hotel's top floor,Teppanyaki restaurant Gozanbo offers a magnificent view of the imperial mausoleums of Kyoto Gozan temples as you enjoy their first-rate chef's brilliant culinary art. You will cherish the carefully selected beef and fresh seafood,grilled right in front of you,along with appetizers and other dishes with a Japanese and Western twist.
We consulted the head chef of Gozanbo about their new menu ideas and tableware requests,and produced samples for consideration. We have received a large number of tableware orders from them for both innovative and traditional Kyo-ware.
---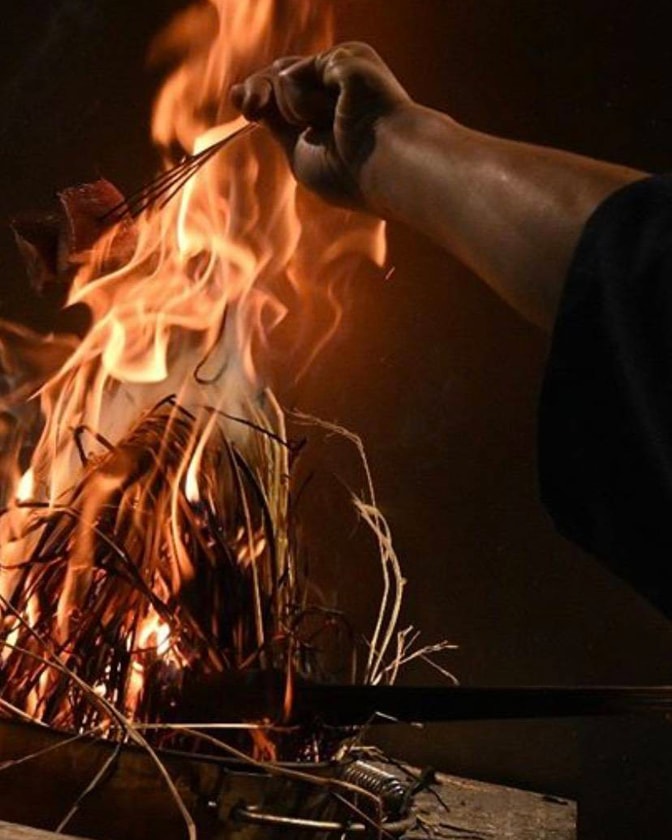 Kakure Robataya GABURI HANARE
315-20 Kamiyanagi-cho,Karasuma-Bukkoji Higashi-iru,Shimogyo-ku,Kyoto-shi,Kyoto 600-8099
In a narrow alley near Shijo-Karasuma in Kyoto,you will find this machiya-style (traditional wooden townhouse) restaurant,a typical Kyoto hideaway.
The restaurant serves carefully selected ingredients,grilled over charcoal or straw,with straw-grilled bonito as their signature dish. At the first-floor counter,guests can watch fish being roasted in front of their eyes and enjoy the faint scent of the straw grill. The restaurant offers seasonal and local ingredients in a wide variety of dishes on their large menu. Sake to accompany those dishes will whet your appetite even more.
Many of our Kyo and Kiyomizu tableware pieces are used at the restaurant.
---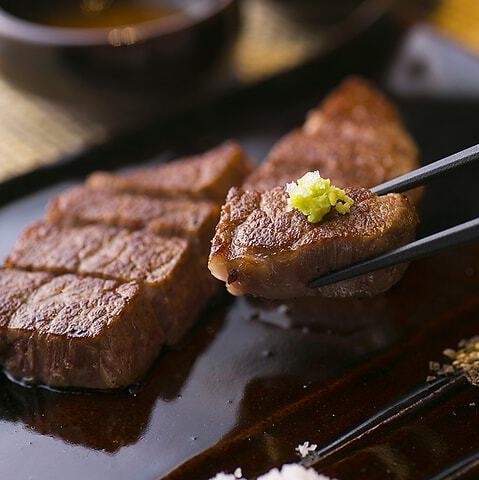 KOBE BEEF STEAK
MOURIYA GION

Gion Mouriya Building,7-1 Yamato-cho,Shijo-sagaru,Yamato-oji-dori,Higashiyama-ku,Kyoto-shi,Kyoto 605-0802
MOURIYA GION is the first restaurant opened in Kyoto by the Kobe-based Mouriya Inc. As a teppanyaki-style restaurant,MOURIYA serves world-popular Kobe beef and other beef specially selected by MOURIYA. Each floor has a different concept,offering a unique modern Japanese world,and every detail of the restaurant has been carefully designed to provide guests with a special experience. Please enjoy a blissful time at MOURIYA GION with its fusion of the atmosphere,ingredients and tableware of Kyoto,and Kobe where its genuine Kobe beef and the style of teppanyaki come from.
Adaptation at MOURIYA GION
MOURIYA GION has adopted many of our items,including tabletop accessories,coffee cups,rice bowls,and teapots,for their restaurant. The round plates,featuring scenes of Kyoto such as Kiyomizu Temple,Gion Festival,and Togetsukyo Bridge,have the restaurant's name on them,and are each designed slightly differently. They are popular among guests,who often take photos of the plates as a memory of their visit.
We visited the restaurant in the spring of 2020 when MOURIYA GION was looking for new tableware for their renovation. We had them carefully select each item,from Kyoto's potteries to artists'originals,to match the image of their menu. They also requested original bread plates,and we sincerely hope to work with them to continue to create original plates.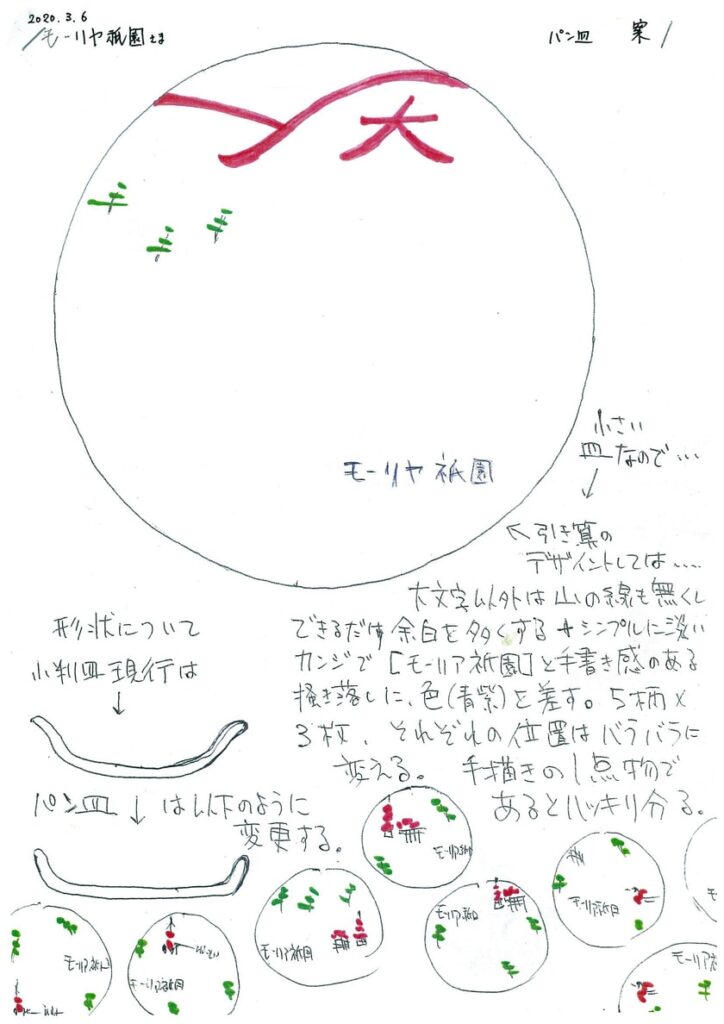 The Restaurant's Comment
The original Kyoto scene plates and the other tableware delivered by Tohgoro are all refined and beautiful. They have been very well received by our guests.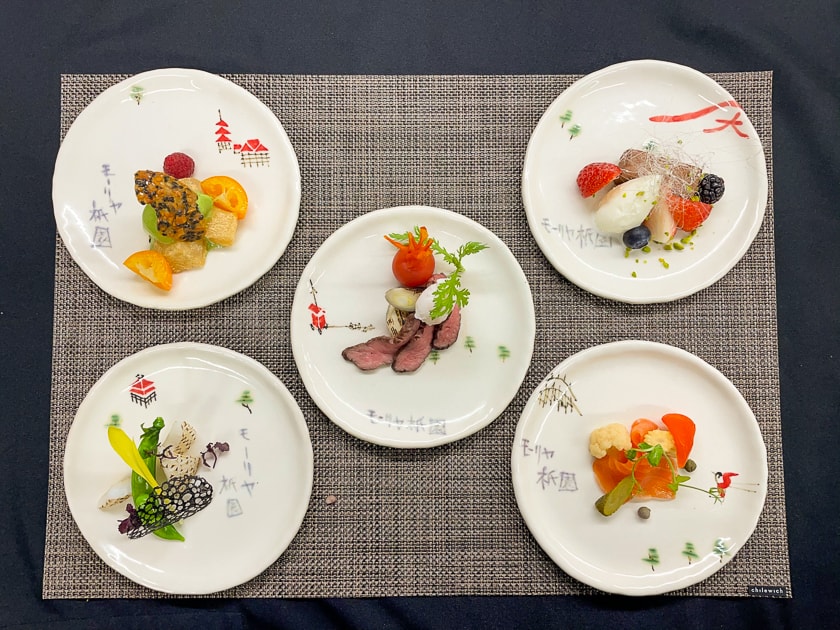 ---
Hotel Granvia Kyoto
Shiokoji-sagaru,Karasuma-dori,Shimogyo-ku,Kyoto-shi,Kyoto 600-8216 JR Kyoto Station Central Exit
Hotel Granvia Kyoto is directly connected to Kyoto Station,the gateway to Kyoto. Beyond the convenience of access,the hotel also offers a variety of rooms for guests to experience a peaceful time,heartwarming service,and excellent hospitality. Hotel Granvia Kyoto has chosen our tableware for use in their restaurants,furnishings and incense burners for their guest rooms.
---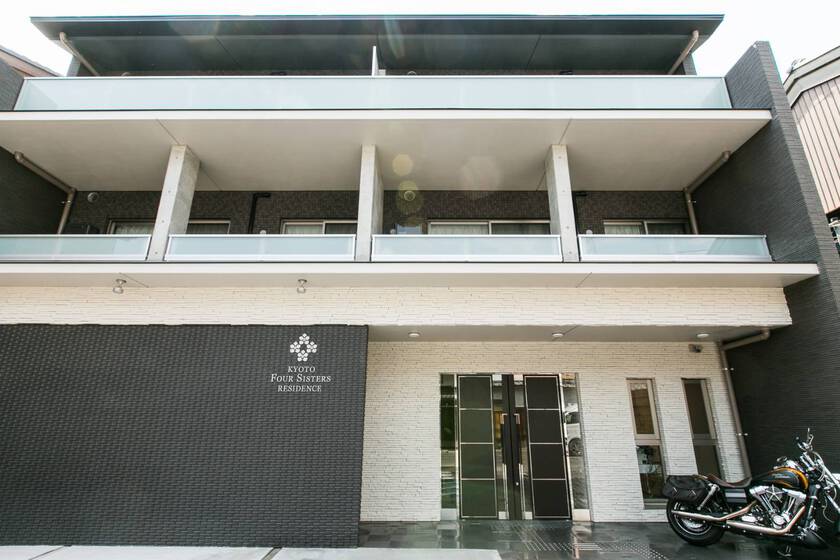 Kyoto Four Sisters Residence
387 Bishamon-cho,Takeya-cho-sagaru,Nishinotoin-dori,Nakagyo-ku,Kyoto-shi,Kyoto 604-0082
This luxury residential hotel is located near the Kyoto Imperial Palace and the Nijo Castle,famous historic symbols of Kyoto,and is easily accessible via public transport to the center of Kyoto city. It was established in 2017 and is fully equipped with new facilities. There are many long-term international guests as the owner's dedication and attentive hospitality make it an attractive place to stay. Please enjoy the elegance of the Kyoto Four Sisters Residence.
Adaptation at Kyoto Four Sisters Residence
We produced original small tea sets for the guest rooms. The flower symbol of the Four Sisters Residence,the moth orchid (Vanda genus),was painted on a white base material to create a simple and elegant finish.
We became acquainted through the Kyoto Chamber of Commerce and Industry membership and have supplied their coffee sets and furnishings. Since they have many guests from abroad and because of the owner's passion for spreading the beauty of Kyoto's traditional craftsmanship,we have worked together to create small tea sets for the guest rooms,using Kyo-ware and Kiyomizu-ware. We would love to continue supporting their heart-warming services and commitment to making Kyoto more exciting.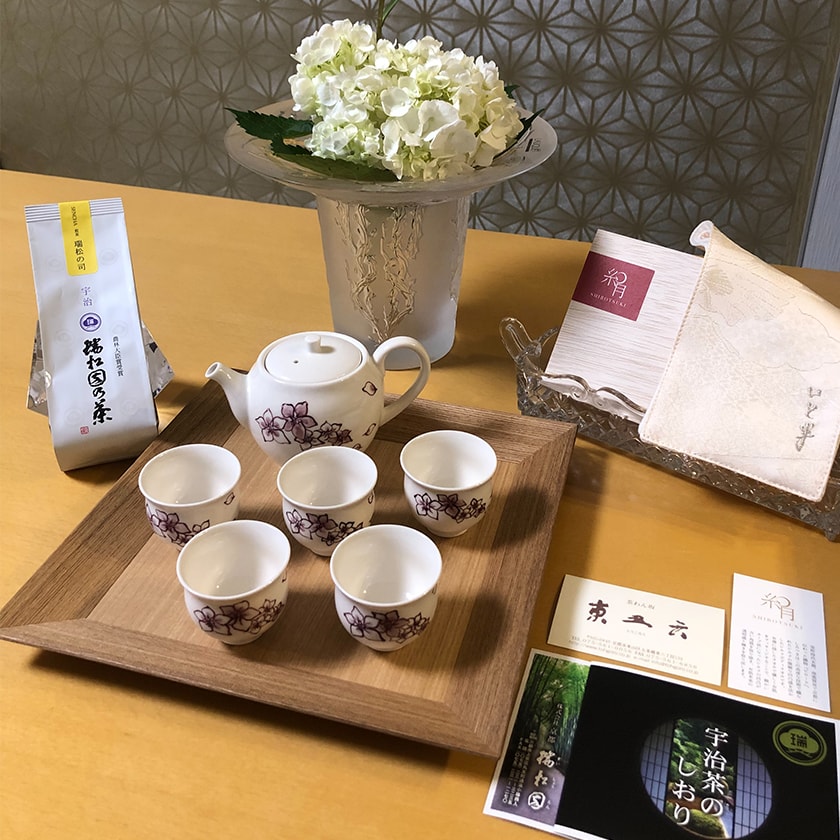 The Hotel's Comment
Kyoto is home to many traditional crafts,including Nishijin textiles and lacquer ware. We wanted to introduce the warmth of craftsmanship and handmade products to our guests from around the world with the Kyo-ware and Kiyomizu-ware tea sets. In spreading the charm of Kyoto not only to people in Japan but also to people all over the world,we would like to work with Kyoto businesses to make Kyoto a city of cultural exchange.
---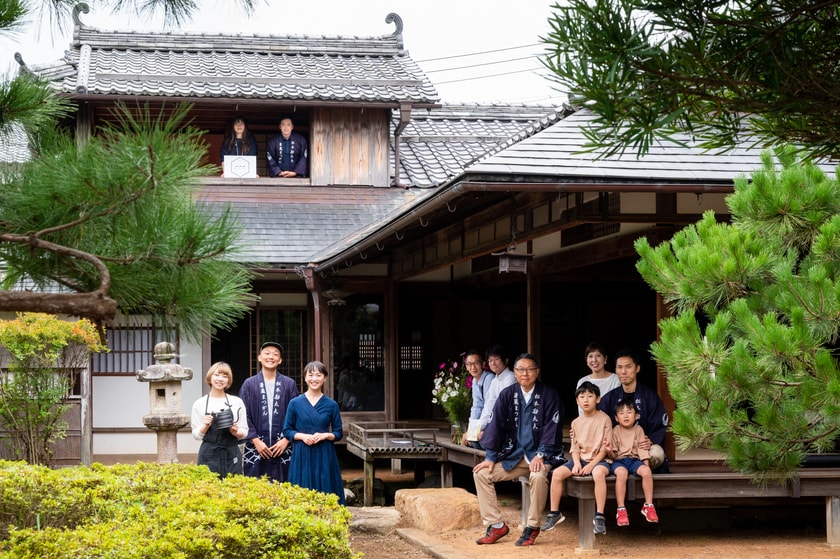 MATSUKAN CO.,LTD.
16-5 Kitashioya,Obama-shi,Fukui 917-8584
Matsukan is a chopstick manufacturer that does planning,development and sales of lacquer,wooden and bamboo chopsticks in Obama City,Fukui Prefecture,the chopstick-production center of Japan. The company was founded in 1922 and has been producing chopsticks since then with a focus on the relationship between chopsticks and Japanese food culture,and people.
In the current diversified world,Matsukan have been researching and developing chopsticks with personality,as we all have different personalities. They breathe new life into each pair of chopsticks,by merging old and new techniques,such as design,new technology,and old-fashioned craftsmanship,allowing us to freely choose a style to suit our modern lifestyles.
Adaptation at Matsukan
We made cat-shaped chopstick rests as a gift item for Matsukan,as the original equipment manufacturer (OEM). Based on our regular products,they were conceived by a designer from Matsukan. The expression and color of the cat,with a yellow bell as an accent,was adorable and made a wonderful companion for their chopsticks.
We first encountered Matsukan at the 2017 Tokyo International Gift Show,where our booths happened to be next to each other. They have developed many wonderful products with a unique handmade feel,and we have been purchasing their products for our retail stores as well.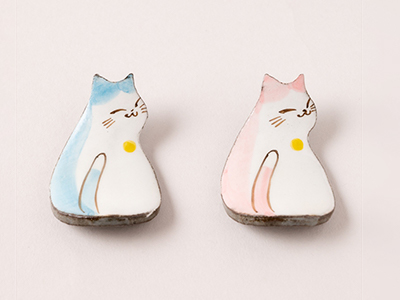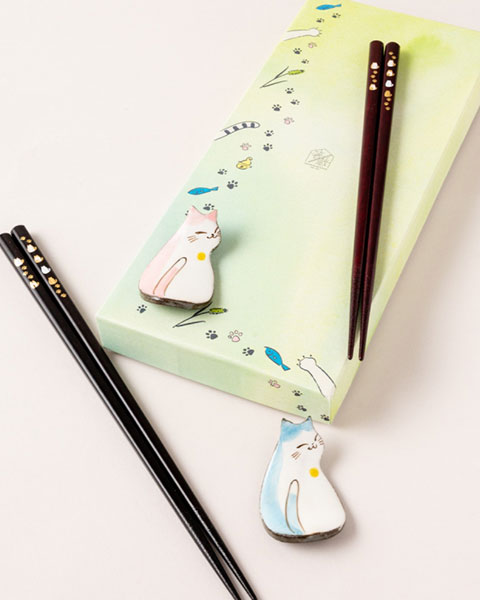 Matsukan's Comment
I was surprised to see the flexibility of the craftsmen's expression,while maintaining the traditional techniques,because I had been under the impression that Kyo-ware and Kiyomizu-ware were conservative and prestigious. This expressivity must only be possible because each item is made by hand. Through this project,I was able to feel the craftsmen's meticulous skills and tender care in their products.
---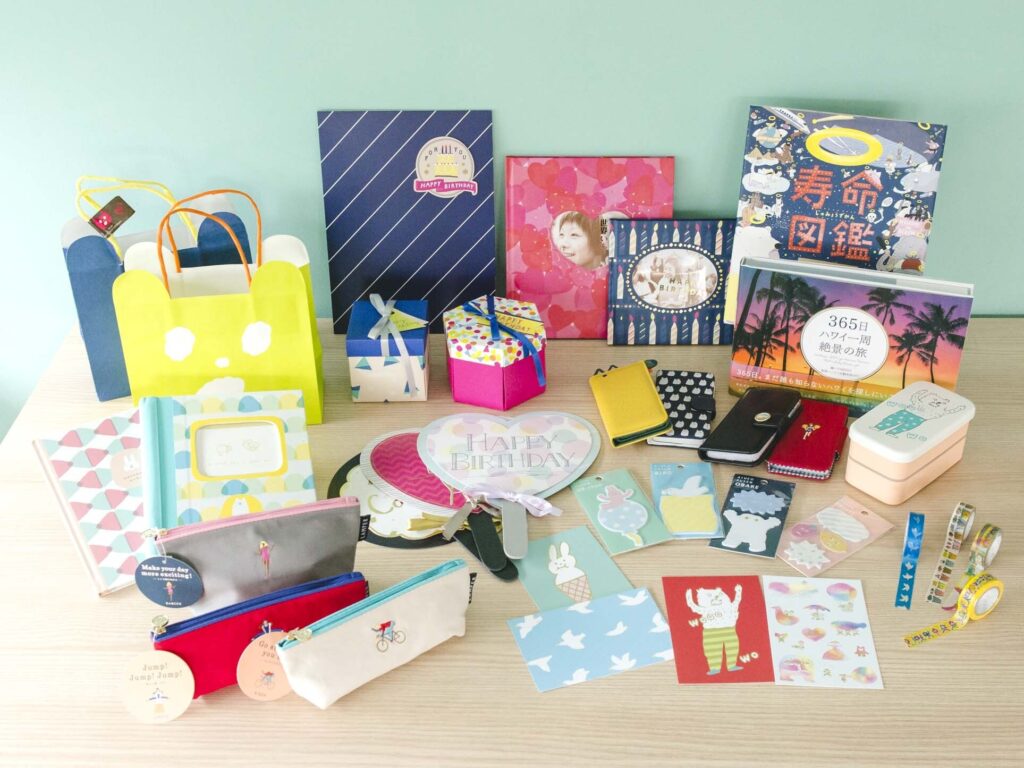 74 Iwakura Minami Hiraoka-cho,Sakyo-ku,Kyoto-shi,Kyoto 606-0032
Iroha is a publishing company that plans,produces,and sells books,novelty goods,and portraits in Kyoto. Located in the quiet Iwakura area of Kyoto,young designers and creators enjoy making things in the friendly atmosphere of their studio.
Their books and novelties will make you smile when you hold them in your hands. Each item is filled with wishes to bring smiles,love and dreams to people all over the world.
The world is full of books,novelties and portraits,but Iroha Publishing's items from Kyoto are filled with thoughts to make people happy,excited,and cheerful.
Example of Adaptation
We worked on the production for the general merchandise brand,AIUEO,one of Iroha Publishing's businesses. The designer wanted to create an item,using Kyoto products,that would make people happy,so we made small cat dishes as the OEM. We in-glazed a few cat patterns onto the base material of Kyo-ware and Kiyomizu-ware,while maintaining the designer's adorable illustrations,and created lovely designs to match the cream-colored base material.
They visited us at the Tokyo International Gift Show in the spring of 2018,and told us that they wanted to make Kyoto-brand products,so we worked with them to create original items. We were impressed by their fun ideas and the excited atmosphere every time we visited the studio. We hope to work with them again to come up with many more happy creations.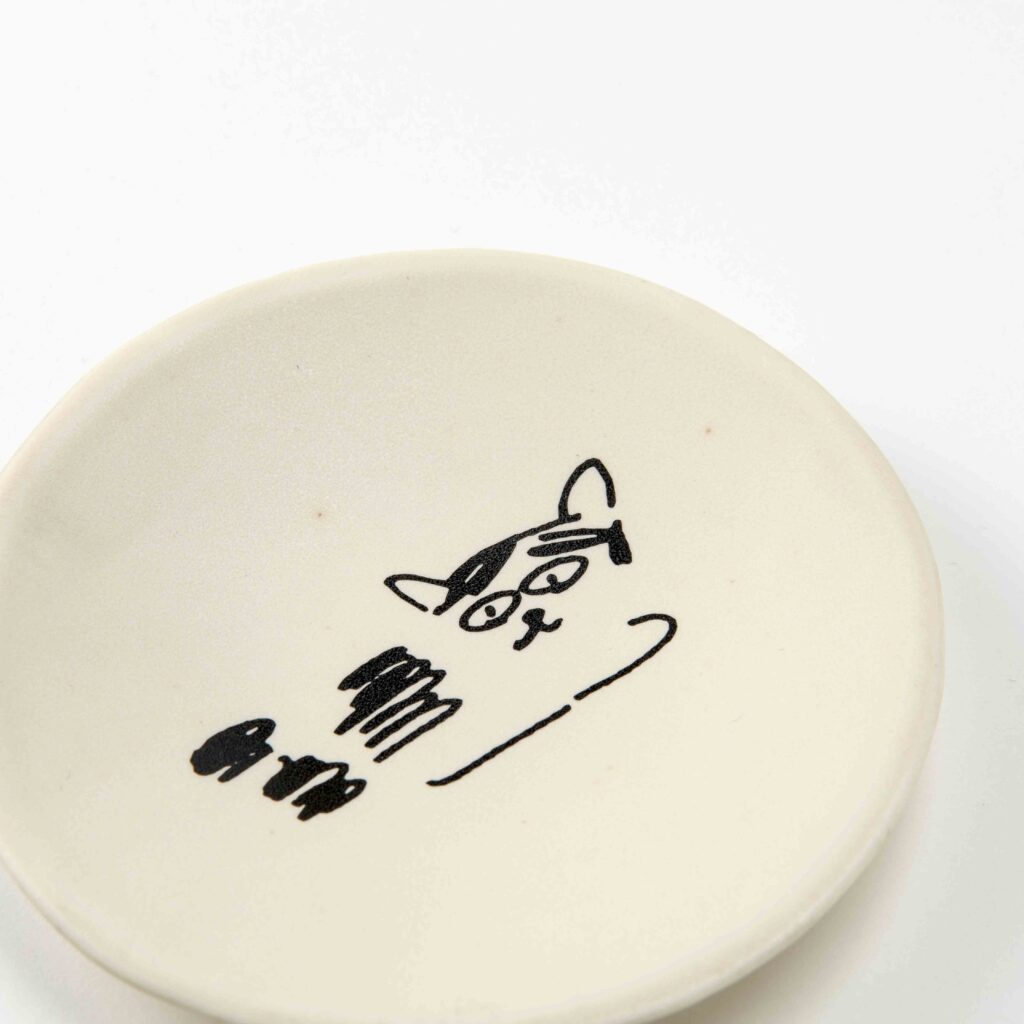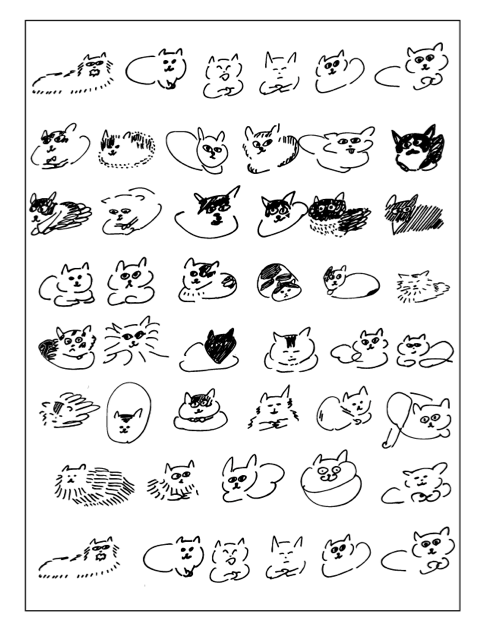 The Store's Comment
In order to make the most of the original illustrations,a characteristic of our AIUEObrand,we requested decalcomania,and a slightly textured shape. They let us make several prototypes of the firing colors,so we were able to choose the one we liked.
We were very happy to be able to choose from a wide selection of Kiyomizu-ware to create a lovely small dish that fit our design.
---